This is a WebSDR receiver, located in Bedford, England, UK It is operated by Barney, e-mail barney.qrp@gmail.com 3 RTLSDR V3 dongles and homemade upconverters. On the LF/MF RX is a wave trap tuned centred on 792kHz to reduce overload from local TX.
If you would like to use my TenTec RX320D 100kHz to 30mHz radio click on the image below. You will need to enable Flash and radio is RX only.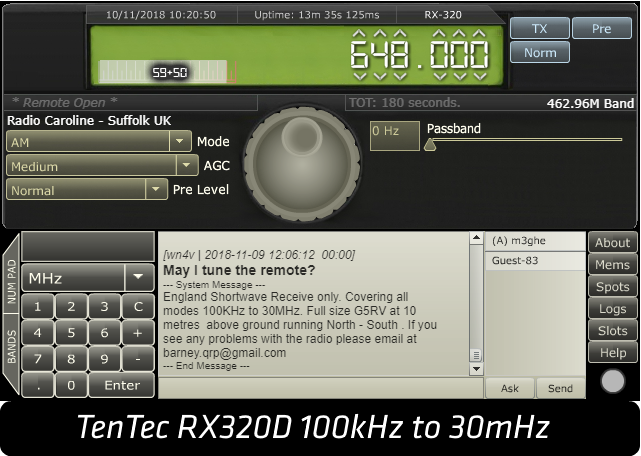 Closures of some BBC local radio medium wave services in 2020.
Current MW Station

Online

FM

DAB Name

Freeview

Announcement date

Shutdown of service

BBC Three Counties Radio
630 kHz, 1161 kHz

bbc.co.uk/threecountiesradio

103.8 FM in Luton and Dunstable
95.5FM in Bedford and Letchworth
98.0 FM in High Wycombe
104.5FM in Milton Keynes
90.4FM in Welwyn, Hertford and Stevenage
92.1FM in Hemel Hempstead
94.7FM in Aylesbury

BBC 3CR

720

17-Feb

06-Apr

BBC Radio York
666 kHz, 1260 kHz

bbc.co.uk/radioyork

103.7 FM Vale of York, Tadcaster, Selby, Knaresborough, Harrogate
104.3 FM Ripon, Thirsk, Northallerton
95.5 FM Scarborough
BBC Radio York (long)
BBC York (short)

720

24-Feb

06-Apr

BBC Newcastle
1458 kHz

bbc.co.uk/bbcnewcastle

95.4 FM Tyne and Wear, County Durham
96.0 FM North Northumberland
103.7FM Hexham
104.4FM Parts of Gateshead and Newcastle
BBC Newcastle (long)
BBC Newc (short)

719

26-Feb

07-Apr

BBC Radio Cornwall
630 kHz, 657 kHz

bbc.co.uk/radiocornwall

95.2 FM Cornwall (east of, and including, Bodmin)
103.9 FM Cornwall (west of Bodmin)
96.0 FM Isles of Scilly
BBC Cornwall (long)
BBC Cnwl (short)

721

02-Mar

07-Apr

BBC Radio Solent
999 kHz, 1359 kHz

bbc.co.uk/radiosolent

96.1 FM Hampshire, Isle of Wight, Bournemouth, Poole
103.8 FM Dorchester, Weymouth, Portland*
BBC Radio Solent (long)
BBC Slnt (short)
722
726*

04-Mar

08-Apr

BBC Radio Cumbria 1458 kHz (reduced MW coverage)

bbc.co.uk/radiocumbria

104.1 FM - Whitehaven
95.6 FM - Workington, Cockermouth

-

721

09-Mar

08-Apr

BBC Radio Merseyside
1485 kHz

bbc.co.uk/radiomerseyside

95.8 FM

BBC Merseyside (long)
BBC Mrsy (short)

722

11-Mar

09-Apr

BBC Radio Norfolk
855 kHz


(reduced MW coverage)

bbc.co.uk/radionorfolk

95.1 FM - Norwich, east Norfolk, east coast
95.6 FM - North Norfolk cost (Cromer/Sheringham)
BBC RadioNorfolk (long)
BBC Norfk (short)

719

16-Mar

09-Apr

BBC Radio Wales
882 kHz, 1125 kHz


(reduced MW coverage)

bbc.co.uk/radiowales

91.3FM Llandrindod Wells

BBC Radio Wales (long)

719

18-Mar

02-Apr
*carries Dorset breakfast show
---
It seems you are using a mobile device; click here to switch to the mobile version of this site.
It seems Java is not installed or disabled on your computer. You need to install and/or enable it for this website to work properly.
Since Java version 7u51, Java needs to be enabled separately for each website; see
http://websdr.org/java.html
for instructions.
Your browser does not seem to support HTML5 WebAudio; please try a recent version of Firefox, Chrome, Opera or Safari; or switch to Java.
Users will automatically be disconnected after being inactive for 90 minutes.
---


Waterfall view:
Or use scroll wheel and dragging on waterfall.
Speed:
Size:
View:
Bandwidth:
?
kHz @ -6dB;
?
kHz @ -60dB.
Or drag the passband edges on the frequency scale.

?
dB; peak
?
dB;
mute squelch autonotch
Volume:
---
Signal strength plot:
---
---
---
Chatbox:
This chatbox is intended to discuss the operation of the WebSDR.
The operators of this site disclaim any responsibility for text appearing in this chatbox.
---
Statistics:
---
More information about the WebSDR project can be found on http://www.websdr.org.

Note: you need both Java and JavaScript enabled for this page to work properly. If you don't hear anything, probably Java is disabled or its version is too old (i.e., pre-1.4.2).