This is Bedford WebSDR #1, located in Bedford, England, UK.
It is operated by Barney, Email
3 RTLSDR V3 dongles and homemade upconverters.
On the LF/MF RX is a wave trap tuned centred on 792kHz to reduce overload from local TX.
My other web SDR covering LF/MF and 20 metres can be found , HERE BARNEY'S WEBSDR #2.
If you would like to use my TenTec RX320D 100kHz to 30mHz radio click on the image below. You will need to enable Flash and radio is RX only.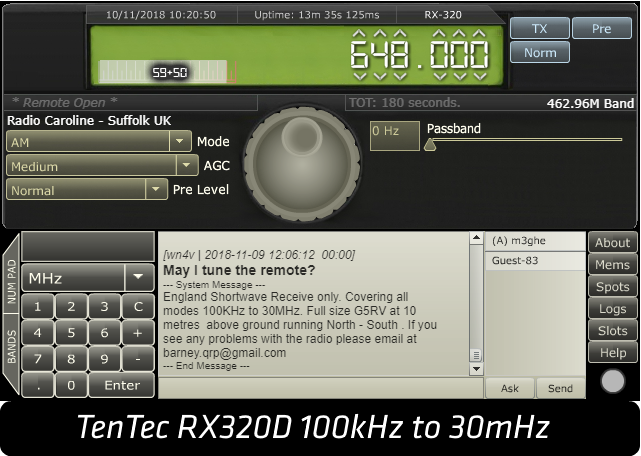 06/05/2020 The sound in Chrome is broken again. I have a work round, but it is a all sites or a site to site basis. In Chrome click on the 3 dots top right. Click Settings, then Privacy and Security. Under Site Settings click on Sound, then making sure the slider to "Allow sites to play sound" is over to right, click Add in the Allow section and add the wildcard http://* to it. All sites should now work, if you just want it to work on individual sites add their URL instead of the wildcard. Exit settings.
It seems you are using a mobile device; click here to switch to the mobile version of this site.
It seems Java is not installed or disabled on your computer. You need to install and/or enable it for this website to work properly.
Since Java version 7u51, Java needs to be enabled separately for each website; see
http://websdr.org/java.html
for instructions.
Your browser does not seem to support HTML5 WebAudio; please try a recent version of Firefox, Chrome, Opera or Safari; or switch to Java.
Users will automatically be disconnected after being inactive for 90 minutes.
---


Waterfall view:
Or use scroll wheel and dragging on waterfall.
Speed:
Size:
View:
Bandwidth:
?
kHz @ -6dB;
?
kHz @ -60dB.
Or drag the passband edges on the frequency scale.

?
dB; peak
?
dB;
mute squelch autonotch
Volume:
---
Signal strength plot:
---
---
---
Chatbox:
This chatbox is intended to discuss the operation of the WebSDR.
The operators of this site disclaim any responsibility for text appearing in this chatbox.
---
Statistics:
---
More information about the WebSDR project can be found on http://www.websdr.org.

Note: you need both Java and JavaScript enabled for this page to work properly. If you don't hear anything, probably Java is disabled or its version is too old (i.e., pre-1.4.2).